Workshop: Storytelling with Data
NOTE: This opportunity has expired or is an event which has already taken place.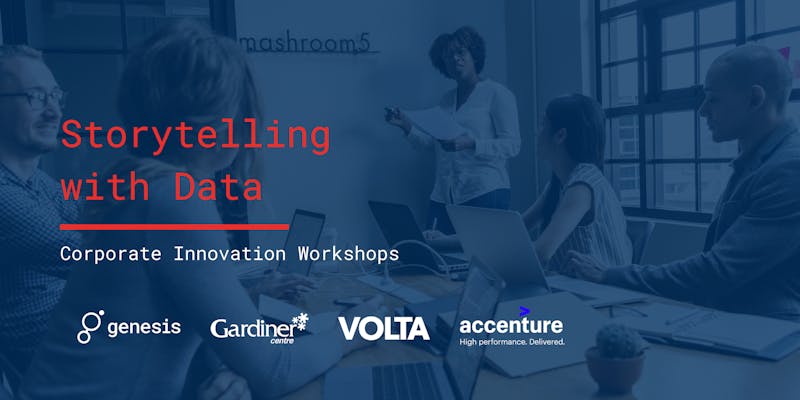 In collaboration with the Gardiner Centre, Genesis is bringing in Volta and Accenture to facilitate a workshops centering around corporate innovation, Storytelling with Data. This course is fast-paced, immersive, and features an assortment of activities to allow participants to learn hands-on.
Storytelling with Data
April 3rd
Storytelling is and has always been the way we understand the world; we have been telling stories for millennia to make sense of complex scenarios and the patterns around us. As a leader, you need to inspire, influence, and advocate your vision to your clients, colleagues, and team members, and to do this, you need to be a storyteller. This storytelling course is based on a simple yet profound idea: how to make communication more meaningful and impactful. You'll discover the power of storytelling and how to integrate data as a pivotal point in your story. The lessons are grounded in theory but made accessible through numerous real-world examples – ready for immediate application into your next presentation. This workshop demonstrates how to go beyond conventional tools to reach the root of your data, and how to use your data and skills to create an engaging, informative, compelling story.
You will learn:
Connect with the audience in a meaningful way
Use less slides and more stories to create more impact
Explain and highlight data using stories to bring it to life
Assess your Social Style, and that of the people you're meeting, to assist you in focusing and tailoring your stories and style
Create and deliver a story-based narrative that is authentic and meaningful, and memorable after the presentation.

Taught by Christine Hamblin (BCA, BSc, MTEI), Atlantic Innovation Lead at Accenture, this class will help you learn the process of using storytelling to create stronger relationships, make your presentations more memorable, and bring data to life for your audience.
Who Should Attend?
Individuals who are looking to integrate innovative approaches and best practices in their organizations. This includes SMEs, corporations, start-ups, not-for-profit organizations, and the public sector.
Additional Information
The price of each workshop is $200. Online payments are not accepted, therefore participants will be invoiced at the workshop. Lunch will be provided.
Click here for more information.