Workshop: Managing Innovation in the Workplace
NOTE: This opportunity has expired or is an event which has already taken place.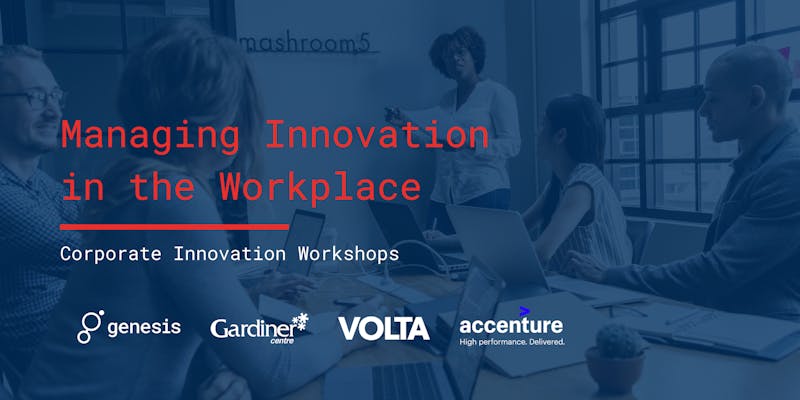 In collaboration with the Gardiner Centre, Genesis is bringing in Volta and Accenture to facilitate a workshops centering around corporate innovation, Managing Innovation in the Workplace. This course is fast-paced, immersive, and features an assortment of activities to allow participants to learn hands-on.
Managing Innovation in the Workplace
April 2nd
Managing Innovation in the Workplace calls for three fundamental steps: inspiration, ideation, and implementation. The inspiration phase is the chance to culturally immerse ourselves in end user/customer environments to better understand their wants, needs, and desires. In that same fashion, the ideation phase helps us draw lessons learned from participants to explore creative, outside-the-box, solutions by co-creating prototypes or mock-ups that are culturally aligned with their vision and ideals. This sets the stage to the implementation phase, where solutions are adopted and shared with the general public for feedback and review.
You will learn:
The 3 steps of the Innovation process to create novel solutions to real-world challenges
Gain strategies for synthesizing your user research and identifying opportunities for design
Practice creative techniques to build rapid prototypes and make your ideas come to life
Learn to effectively test your initiatives with real users and identify promising solutions that you can begin implementing thereafter
Taught by Christine Hamblin (BCA, BSc, MTEI), Atlantic Innovation Lead at Accenture, and certified Human-Centered Design and Design Thinking facilitator; this class will help you learn the
process of conceiving and designing new products and services for your business.

Who Should Attend?
Individuals who are looking to integrate innovative approaches and best practices in their organizations. This includes SMEs, corporations, start-ups, not-for-profit organizations, and the public sector.
Additional Information
The price of each workshop is $200. Online payments are not accepted, therefore participants will be invoiced at the workshop. Lunch will be provided.
Click here for more information.