WEBINAR: A New Era of Investment in Caribbean Infrastructure
NOTE: This opportunity has expired or is an event which has already taken place.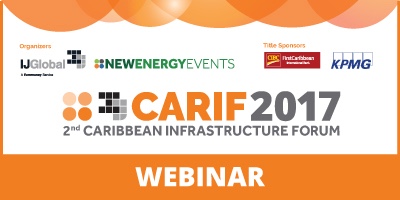 Date: Thursday, November 16, 2017
Time: 12:30 PM – 1:15 PM NST
Cost: Free!
To set the stage for the 2nd Caribbean Infrastructure Forum (CARIF) on December 11-12 in Montego Bay, New Energy Events and IJGlobal are exploring the investment climate for infrastructure across the Caribbean.
Webinar Panelists
Adam Carter, Managing Director, Investment Banking, CIBC FirstCaribbean
Monica La Bennett, Vice President, Operations, Caribbean Development Bank (CDB)
Simon Townend, Head, Islands Group, KPMG
Jon Whiteaker, Editor-in-Chief, IJGlobal (Moderator)
Webinar topics include:
Investor & financier perspectives on opportunities for Caribbean infrastructure: which markets and which sectors are showing most promise?
How has the devastation of Irma and Maria changed the market for infrastructure investment and development? Is this a long-term trend?
How is the risk profile of the region changing and how is that impacting financing costs and investor appetite?
Click here to register.