Memorial University researcher receives major funding to study community impact of arsenic pollution in Northwest Territories
Written by Janet Harron
Published on today.mun.ca on July 9, 2013
A researcher in Memorial University's Faculty of Arts has received a major grant from the Social Sciences and Humanities Research Council (SSHRC). Dr. John Sandlos of the Department of History has received $200,000 over three years for his project, Toxic Legacies: Community Perspectives on Arsenic Pollution at Yellowknife's Giant Mine.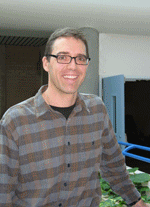 According to Dr. Sandlos, arsenic pollution from mining has been a pressing environmental issue near Yellowknife for more than six decades. Highly toxic arsenic trioxide dust, often a byproduct of the roasting process that separates gold from ore, has been stored in underground chambers since causing severe health effects in Yellowknives Dene First Nation (YKDFN) communities beginning in 1949. There has been a proposal by the Canadian and Northwest Territories government to freeze the arsenic in perpetuity, a solution that has produced controversy.
"Our research is tremendously significant to people living in the Yellowknife area and to the potential mitigation of long-term toxic threats at sites in the Northwest Territories, Canada and internationally," said Dr. Sandlos.
The funding will go to produce a published oral history, a web display and school curriculum material on mining and arsenic poisoning in the YKDFN communities. Dr. Sandlos, his team of academic researchers and partners the Goyatiko Language Society and Alternatives North, will also produce a community mapping study and a documentary film.
"This research will help us better understand arsenic pollution from the perspective of the communities impacted," said Dr. Richard Marceau, vice-president (research), Memorial University. "Dr. Sandlos' work is an excellent example of how academic research can help us explore and address issues that are relevant to both society and industry."
The funding was received under the SSHRC Partnership Development Grant program, which supports formal partnerships between academic researchers, businesses and other partners that will advance knowledge and understanding on critical issues of intellectual, social, economic and cultural significance. The grants allow partners to design and test new approaches to research and its real-world applications, foster valuable research relationships and networks across sectors, and provide hands-on training for students and new scholars.