Davie Information Sessions, April 2, 2015, St. John's, NL
NOTE: This opportunity has expired or is an event which has already taken place.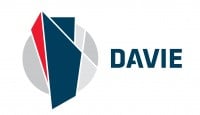 Date: Thursday April 2nd
Time: 9:30am and 2:30pm respectively
Location: The Rooms – Corporate Boardroom
Since the revival of Davie Shipyard in late 2012 under new ownership, we have had many notable achievements including:
Reaching peak employment of over 1,000 employees making Davie by far the largest shipbuilding employer in Canada
Delivery of Hull 717 which is the largest and most complex vessel delivered in Canada in over 25 years
Commencement of construction of two dual fuel ferries, the first LNG passenger vessels to be built in North America
Completion of the first Canadian Coast Guard refit under the new ownership
Being named 'North American Shipyard of the Year' by Lloyd's List North American Maritime Awards 2015
In addition to the above achievements, we are excited to be adding to the list the expansion of our supplier base into Newfoundland & Labrador along with the pursuit of several opportunities for new ship construction that are available within the province. We at Davie believe not only that Canadian based solutions to our domestic shipbuilding needs are possible, but also that these solutions can involve a large local content, especially in a marine focused province such as Newfoundland and Labrador.
Please join us on to find out more about our current projects, the exciting opportunities that we are pursuing, and receive information on how to become a Davie supplier.
Agenda
Session 1
9:30am – Meet and Greet
10:00am – Presentation
10:45am – Questions
11:15am – Finish up / one-on-one discussions as required
Session 2
2:30pm – Meet and Greet
3:00pm – Presentation
3:45pm – Questions
4:15am – Finish up / one-on-one discussions as required
***************************
Spaces are limited and will be confirmed by Tuesday March 31st. Please RSVP with preferred session and proposed attendees to:
Santane Weill
Marketing and Communications Manager
Tel.: 418 837-5841 ext. 2110
Email: santane.weill@davie.ca